NAUENER PLATZ IN BERLIN, GERMANY
The Nauener Platz in Berlin, Germany is a small urban park. It was redeveloped in 2009 together with the residents, by means of a collaborative soundscape approach. It included the development of a cohesive new design for a neglected space, based on a mixed methods approach, combining different soundscape elements like the implementation of audio islands. The soundscape project was a module of the project "Nauener Platz – Remodeling for Young and Old" within the research program "Experimental Housing and Urban Development (ExWoSt)" [1]. 
In the audio example you can hear birds chirping – the sound playback of one of the audio islands activated by pushing a button.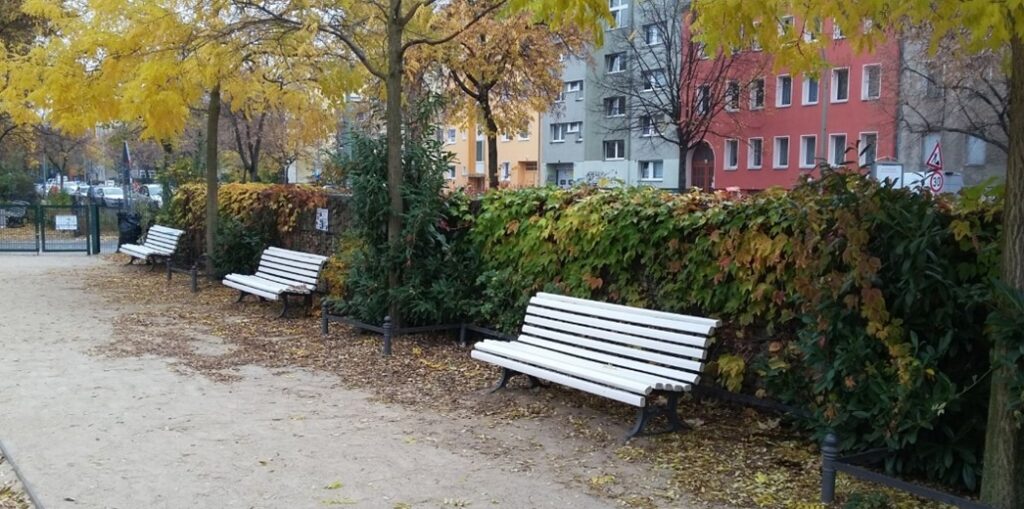 [1] Schulte‐Fortkamp, B., Volz, R., & Jakob, A. (2008). Using the soundscape approach to develop a public space in Berlin ‐ perception and evaluation. The Journal Of The Acoustical Society Of America, 123(5), 3808. 
 [2] Schulte-Fortkamp, B., & Jordan, P. (2016). When soundscape meets architecture. Noise Mapping, 3(1), 216-231. 
 [3] Acloque, V., Schulte-Fortkamp, B. (2011). Validation of the psychoacoustic infrastructure of a public space in Berlin, based on the concept of soundscape. Fortschritte der Akustik, 37. Deutsche Jahrestagung für Akustik, 21.-24. March 2011, Düsseldorf.
Photos, video, audio: André Fiebig
Entry submitted by: André Fiebig