Miami Beach Soundscape:
Lincoln Park
LINCOLN PARK IN MIAMI, FLORIDA
Lincoln Park in Miami, Florida was implemented in 2011. Promoted by local authorities, it is a permanent installation, attracting residents and tourists on a regular basis.
Lincoln Park is a new meeting place in town. Centrally located in the Art District at the monumental terminus of lively Lincoln Road, the park has multiple functions. One of the park's most prominent features is an unprecedented, distinctive, and ambitious audio-visual program that creates an outdoor theatre – offering free performances at concert level quality. The design of a family of custom architectural elements– the Ballet Bar, the Projection Tower, and the Media Hydrants – transformed what could have been an overwhelming number of park structures into an integrated and lyrical park element.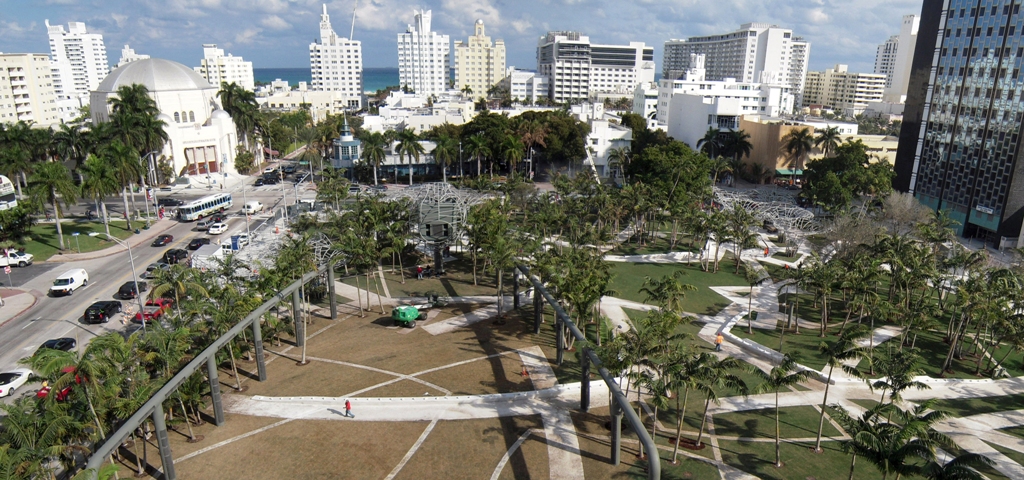 Lincoln Park is in front of the New World Symphony building. In the northern half of the park, an electroacoustic system designed for the transfer of performances inside the concert hall was installed. The electroacoustic system consists of two series of speakers hidden in a structure designed with the aim of uniform dispersion of sound throughout the surface of the northern half of the park and protecting the speakers.
Since implementation, the park hosts many events open to the public and attracts a large number of visitors.